ARTIST'S STATEMENT
Donald A Tubesing
My art, for most of my life, was expressed through book writing and book publishing. The companies we founded consistently won major awards for both the content and the design of our products.  In 1996 my wife gifted me with a trip to the marble stone carving symposium in Marble, Colorado. Since then I have retired from book publishing and shifted media, spending most of my creative energies sculpting stone.
My work depicts positive emotions and loving relationships— liberty, contemplation, joy, play, love, commitment, and birth. Someone asked me why I don't do rage or jealousy. Why? Because it's no fun for me to spend a month with those emotions. Perhaps due to my verbal background, I most enjoy creating sculptures that tell stories and celebrate major life transitions. These spiritual/relational pieces are usually accompanied by a narrative poem.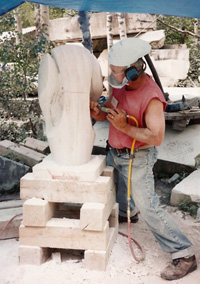 I create sculptures as personal spiritual expressions, and I love playing with form, long sweeping curves, light, shadow and texture. I seem to gravitate toward the warm and the asymmetrical, the humorous and the unexpected.
How could anyone be so lucky—to love so much what they do! If you, too, find joy in the final results, that's a personal bonus for me. Thank you for your interest.